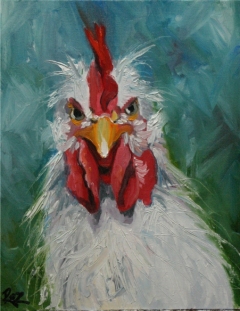 Roz (a.k.a. Rosilyn Young) has been painting professionally for over 20 years. Originally a Yankee and confirmed city-girl, she moved to Texas in the 1990's. At one point many years ago, she and her children spent a year on a ranch in West Texas-and there her love for painting roosters and cows was born. While the owners of the ranch may have viewed the animals as potential meals, Roz saw them as giant, messy, amusing pets.

Now living in North Carolina, she still fondly recalls the cows that would jump the fence and be wandering in her yard waiting for the treats she would give them, or chasing the roosters around (for hours) who got out of the pens.

Roz's love for painting has been with her since she was a child. Professional, driven and prolific are words she uses to describe her work ethic. When it comes to painting itself, she is happily and chronically obsessed.

Her work has sold to many galleries, shops, designers, celebrities, authors, politicians and art lovers from all walks of life. References are available upon request.



Notes about my references:

Some paintings are painted from my photo references taken over the years. I have hundreds of cow and rooster paintings from the time I lived on a ranch. I have photo references of my own children leaping with balloons in various poses. I have received hundreds of references from clients of their own photos for custom pieces. I also use several stock photo companies for standard references, such as bees, nests, more cows, etc.

Here is an example of one of my photo references for a leap with the resulting painting: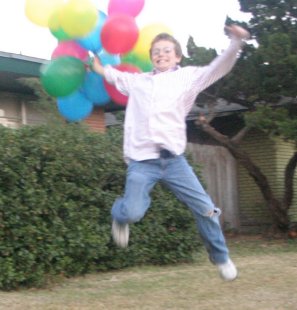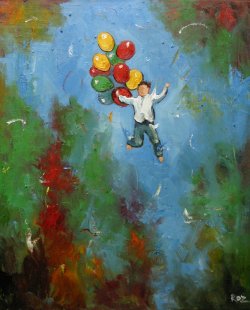 Here are a couple from stock company photos (I have paid memberships with several of these) and a couple of the resulting paintings: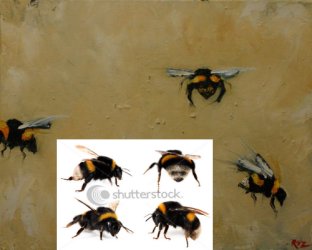 I have put these examples up for a couple of reasons. Firstly to let collectors see examples and make it clear they can work with me to design what they would like for a custom painting. Secondly – to protect myself from copyright issues.