Wholesale Opportunities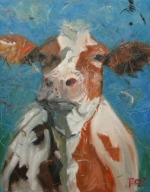 Roz works regularly with clients in the art re-sale business at a wholesale level. Because of her prolific skills she is able to produce orders of many original oil paintings in a short period of time. She has been commissioned for large numbers of paintings from interior designers, gallery, and retail shop owners, as well as retailers working art fairs. Roz is always professional and delivers your paintings within the necessary time frames.
Feel free to contact me to discuss your needs for original high-quality art work at affordable prices.
Estimates for Wholesale Discounts*
5 paintings purchased = 10% off
10 paintings purchased = 15% off
15 paintings purchased = 20% off
20 paintings purchased = 25% off
25 paintings purchased = 30% off
* Please note: These discounts do not automatically show up when checking out. Please contact me to arrange the invoice.
References from wholesale clients are available upon request.
If you do not receive a reply from me within 1-2 days, please check your email bulk folder